Dash + Miller is a brilliant weave design studio based in Bristol, established four years ago. Founded by the talented Juliette Bailey and Franki Brewer, they specialize in producing clever woven samples and meterage for businesses across the spectrum of fashion and interiors. Clients have included Habitat, Pringle of Scotland, DAKS, Jonathan Saunders, Mulberry and Calvin Klein Home.

They work out of an beautiful studio in a converted old schoolhouse. High ceilings and white walls make the shelves of yarns sing and the work on the looms command your attention. I visited them recently to discuss all things 'weave' and left very inspired but with severe studio envy. Their neatly ordered and perfectly labelled storage and lack of clutter made me return home to have a good tidy up of my mess. Not that you'd guess, should you saw it...... (a work in progress).
Their latest design work to hit the high street is as part of the Best of British range for Marks and Spencer SS14. The line can be found in M&S stores at

Marble Arch and Kensington in London, Edinburgh, Bluewater in Kent, and Camberley in Surrey, as well as available online.

There are two garments in this first collection showcasing Dash + Millers unique collaboration with UK ninth generation silk weavers, Stephen Walters & Sons. Two-tone graphic jacquard's have been selected for a Bomber jacket and dress.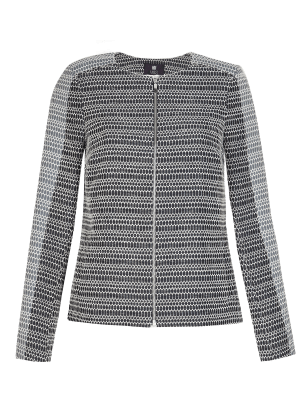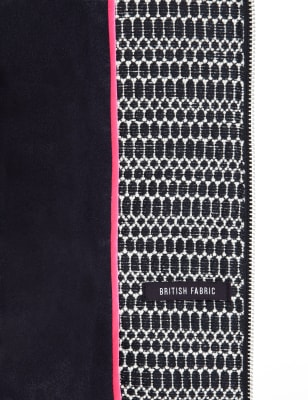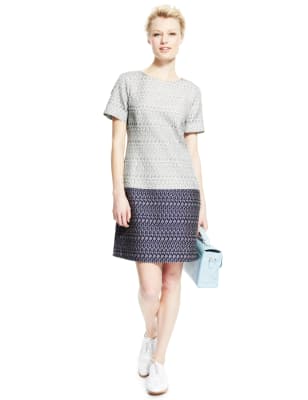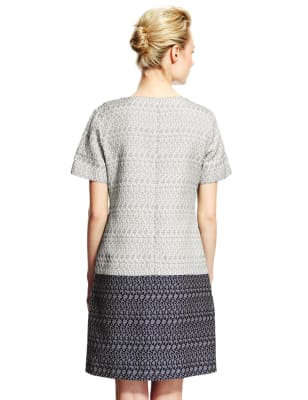 Hope that this collection proves to be a sell-out, not only in recognition of Dash + Millers excellent work with Stephen Walters, but also to serve as encouragement to M&S (and other UK retailers) to start bringing more manufacturing back on-shore.